Upcoming Performances!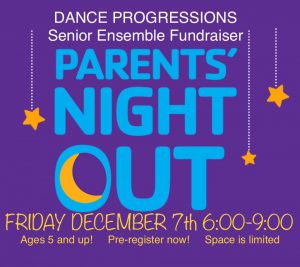 Just in time for holiday shopping, we are offering a parents night out at Dance Progressions! Senior Ensemble members will be providing child care on Friday December 7th from 6-9. We will have snacks, dance games, a movie and crafts!Senior Ensemble members are raising funds to attend a dance convention in February.
Where: Dance Progressions 109 Hillside Ave Londonderry NH
Cost: $25 per child
Who: Children 5 and up!
Purchase your ticket to reserve a spot! Space is limited!